2021 Boys Cross Country Season: A RUNderful Season
The Travelers Rest Cross Country team qualified for State Championships once again and raced on Thursday, November 11th. The boy's team was projected to place 12th or 11th but the team felt that they could place 10th. In an interview with Todd Harris, a former soccer player turned track star, he stated "we wanted to get 10th, trying to get top 10 in the state was our goal for the season." When asked about how he felt about the race, Todd responded, "At the beginning of the race I felt very nervous but I was ready for the season to finally come to an end. After the race, I felt very disappointed because I wanted to do better than what I ended up getting." Todd described the Cross Country season as "back to normal" without all the covid restrictions that took place last year. When asked about what he was going to do now that the season was over, Todd replied that he was going to train in the offseason to become the best runner he can personally become, hoping to beat Griffin Gillespie's personal records in the process.
Throughout the season, runners had to step up and work hard to fill in the open varsity boys spots. The loss of 2 seniors in the past year combined with the loss of 2 others, left 4 varsity spots open for taking on the guys' team. The phrase "easiest year to make varsity" kept running through the air but in reality, everyone was putting up a fight to fill those varsity spots. This resulted in impressive effort and personal records from the people that aimed to secure a spot on varsity and a trip to State Championships. The standard to be seventh on varsity at the beginning of the season was a sub 21 minute 5K. At the end of the season, the standard was under a 19:26 minute 5K. Many runners were able to receive a varsity letter. Jared Kemmerer, a senior, got a sub 20 minute 5K on what he thought would be his last race of the season and his high school career. Jared ended up getting a 19:25 minute 5K, meaning overtook the number 7 varsity spot. The team hopes to continue and improve upon this success in the future as they say goodbye to their seniors and welcome new members to the team. Overall, the team had what they considered to be a successful season, with each individual team member accomplishing their goals and building a solid bond with their team members.
Leave a Comment
About the Contributor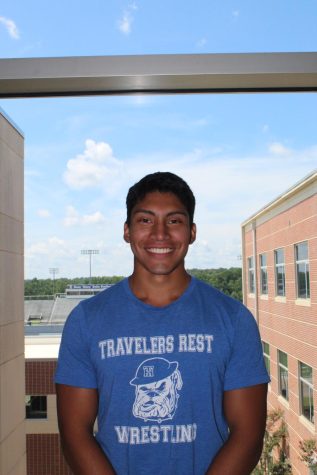 Cristhian Campos, Staff Writer
Cristhian is a senior at TRHS, this is his second year on the Blue and Gold Staff as a writer. Cristhian is a part of the cross country and track. Cristhian...