Donda- Kanye West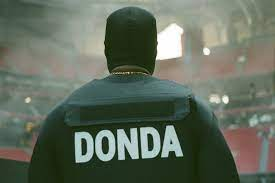 This album consisting of 27 songs was set to release on July 24, 2021. However it didn't release for another month on August 29, 2021. The time span between the initial release date and the actual drop of the album made fans more anxious to listen to the album, helping to make Donda a very lucrative and hyped up album. Fans went on to make memes, making fun of how long Kanye was taking to drop the album.
The rappers living arrangements were quite unusual for a billionaire. Kanye paid $1 million per day to live in the Mercedes Benz Stadium, while finishing up Donda. The room was very tiny and box-like, resembling a jail cell. Three public listening parties were held in Dondas name. Kanye had no problem being controversial as he invited DaBaby and Marilyn Manson on stage during one of the listening parties. Following DaBaby's homophobic and misogynistic comments made at Rolling Loud Miami, and Manson facing lawsuits for alleged sexual assault filed by multiple women. It was even mentioned that Kanye wanted Donald Trump to be on stage with him.
During the third listening party his wife, Kim Kardashian, who had filed for divorce, wore a white Balenciaga wedding gown. This made fans speculate about the couple reconciling. Many famous artists attended the listening parties, artists featured on the album include, Baby Keem, Jay-Z, Pusha T, Kid Cudi, Lil Baby, The Weekend, Travis Scott, Lil Yachty, Young Thug, Lil Durk, and Jay Electronica. Donda was anticipated to be one of the best albums of 2021.
Leave a Comment