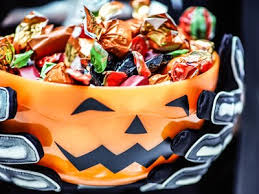 With Halloween coming up, some major brands are starting to come out with their Holiday specials. Companies have been doing their limited time specials since the 1800's with candy corn being one of the first Halloween treats.
Starbucks, Reese's, Kit-Kat and a many more of the major candy companies have come out with limited edition snacks for the celebration. Starbucks has came out with a new Witches' Brew frappuccino and Reese's has came out with ghost shaped Reese's cups. Kit-Kat has showcased creme flavored candy, and Little Debbie Cakes now line the shelves with cakes in the shape of bats and pumpkins. People love the fact that the treats are only around for a limited time, because that just makes them even more special and can even make family traditions. However, some Halloween enthusiasts do not appreciate these limited offers.
"I don't really like it because they should be able to offer a certain cookie shape year round, if people what to have a themed party, with the decorations of that certain holiday," Says Faith Evans.  
Others even think that the entire idea of having themed snacks is both a waste.
" I don't think it affects me because it is a waste of time and money, when the company make a special edition items it costs more than the normal stuff,"  says Zach Wilson.
"I think some of the treats are cool but some of the other teats are just a waste of time," Olivia Ableman concurs. 
It seems that everyone has their own opinions about these snacks. Limited time Halloween candy and treats are only around for a limited time so get them while supplies last.