Dudes of the Decades
Hang on for a minute...we're trying to find some more stories you might like.
Mr. TR is an annual fundraiser hosted by The Blue and Gold newspaper. On Nov. 10, the gentlemen of TRHS had the chance to compete for many titles, including Mr. TR.
The fundraiser was a playful pageant that features casual wear, talent, and formal wear. The causal wear portion of the competition is your everyday attire, while formal wear is where the gentlemen dress to impress. For the talent portion of the competition, each grade level had a chance to be creative and express their personality. Freshman Sam Kemp lip-synced and danced to "Jailhouse Rock." Sophomores Tommy Janosky, Jo Koppari, Josh Lipscomb, and Henry Waldrep humorously read Dr. Seuss for slam poetry. Juniors Gantt Connor, Josh Kemp, Mel Norton, Cross Powell, Mac Reaney, and Carter Vickers danced to "YMCA." Seniors Wyatt Coker, Shaun Forrester, and Jimmy Tran did a Risky Business act. Overall, the sophomore class talent resonated with the judges and the boys took home the prize.
Prior to the pageant, the student body was able to vote for the sexiest eyes award. Taking home the sexiest eyes award was Sophomore, Henry Waldrep. For People's Choice Award, jars were placed in the Commons with each name showcased, giving audience members the opportunity to place money in them. Junior, Gantt Connor, won the title by receiving the maximum collection of $65 in donations.
Last but not least, as for the main awards, Sam Kemp was Mr. Freshman, Henry Waldrep was Mr. Sophomore, Cross Powell was Mr. Junior, and Wyatt Coker was Mr. Senior.  Shaun Forrester was awarded the title of 'Mr. TR.' He said, "It is an honor to be Mr. TR and it was awesome experience with the whole [newspaper] staff."

About the Photographer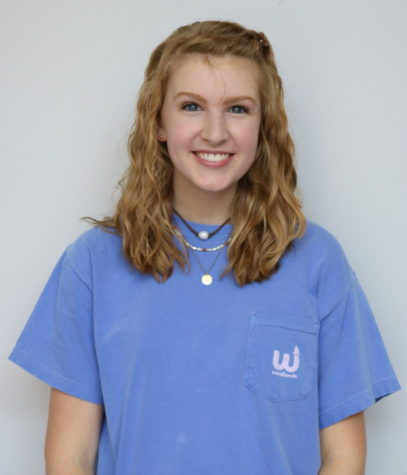 Addie Townsend, Co-Editor-In-Chief
This is Addie's third year on newspaper and she couldn't be more excited. She is the Co-Editor-In-Chief and loves her staff family! She enjoys playing oboe in the symphonic band, working in NHS as the president, and taking portrait photography. Sometimes her tall height gets in the way with her balance, so if you find her on the floor, just know she's clumsy. When it comes to music, Addie lives under a rock. She loves music from the decades and (underrated) Alternative bands you probably have never heard of. Don't worry though, her friends help her out by showing her pop music.  Addie loves Jesus Christ and strives to be like Him everyday. //
Romans 12:2 —
Favorite TV Show: The Office