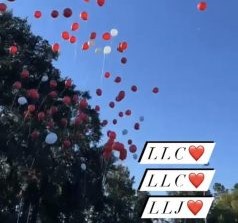 Last September, three students lost their lives. Today, the lives of Canyon Carter,  Javian Downer, and Caleb Lowell were commemorated. There was a memorial held for them and the families of the lost loved ones. The memorial was filled with comforting one another, music, and love.
As we stood in silence comforting each other, Meccia Wyatt sang songs to honor the lives that were sadly taken. Along with Caleb Mills giving a speech. The event was very impactful bringing almost everyone to tears.
Seeing the sadness on the parents' face made everyone hug them. All spoke to the parents telling them that they were there for them and if they need anyone to talk to, they can always come to us.
If you or someone is suffering from depression or having suicidal thoughts, please call 800-273-8255.