Halloween (2018) Movie Review
Miramax has released their latest horror movie Halloween 2018, and it is already becoming a favorite among horror lovers. Halloween has brought in over 100 million dollars so far in box office tickets, and achieved over 70 million dollars on the opening weekend, crushing their goal for the movies revenue so far.
Halloween 2018 begins 40 years after the events of Halloween 1978, and does not include any of the sequels made after the original Halloween. Jamie Lee Curtis is back again, playing as Laurie Strode, this time with a daughter named Karen Strode, and a granddaughter named Allyson Nelson. Laurie is rarely in contact with them, due to her PTSD from her previous encounter with Michael Myers. Laurie has dedicated her life to preparing for her next encounter with Michael Myers, and went through extensive training and practice with her young daughter. As Karen grew up, she decided to isolate her and her family from Laurie's "unsafe environment". The new movie also introduces new characters, such as two podcasters that have traveled a long way to meet Michael and Laurie, in an effort to find what makes Michael tick, and his killing motive.
The movie follows the very similar style that the original Halloween follows, with someone hunting down its prey, but it has its own twist. This time, it is as if the roles have changed. Laurie has waited for the day when Michael will come after her, but this time she is prepared and ready to hunt him down. It takes a long time for the characters to finally submit to Laurie's plan to stop Michael, since they have considered her to be paranoid.
A new character by the name Ranbir Sartain is the replacement for Dr. Loomis, and is Michael's new psychiatrist. He plays a major role in the plot of the movie, due to his drive to study Michael in an open environment. Some speculate he is part of the reason why Michael escaped from the facility he was locked in. He also helps the two podcasters, as they investigate to see what makes Michael tick. Unfortunately, the two podcasters do not find anything useful, and hardly provide any important information to the plot.
The Strode family us full of new characters, and they play a major role in the plot of the story. Laurie's daughter, Karen, is a family mom, and has dedicated her life to raising her daughter in a well environment. She has tried to boycott her mothers ideas and training from her daughter, because she is still haunted by the drills and training Laurie made her do as a child. In the long run, her training was for the greater good, because she and her family encounter Michael Myers at Laurie Strode's house. Karen manages to fool Michael into a trap, and the family burn the house down, while Michael is trapped in the basement. There are clips of the burning cellar, but there is no footage of Michael's body. The end of the movie shows the family escaping the house, by hitching a ride with a stranger, and shows Laurie's Granddaughter clasping the knife she used to stab Michael once during the house fight. Many speculate she could be showing signs that of what Michael showed as a six year old boy, when he killed his own sister.
Overall, the movie was a big success in the box office, bringing in tons of ticket sales. The movie itself still carries on that eerie Halloween vibe, and Michael's gory killing spree. The plot is still full of holes that have yet to be filled, which might mean another sequel could arise at a later date. The movie makes a great way to spend an evening with goosebumps and chills, and is still is action packed, leaving you wanting more. Halloween is a definite must for anyone's horror movie bucket list.
About the Writer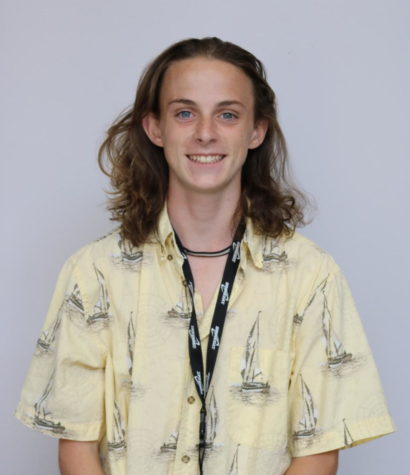 Henry Waldrep, Communications Manager
Henry Waldrep is a Junior at TRHS. This is Henry's first year on The Blue and Gold newspaper staff. He enjoys running, fishing, playing Ultimate Frisbee,...