Harry Styles: Love On Tour
Some things are finally returning back to normal despite COVID-19. Harry Styles is one of the most recent artists to start touring again, beginning on September 4th with 'Love on Tour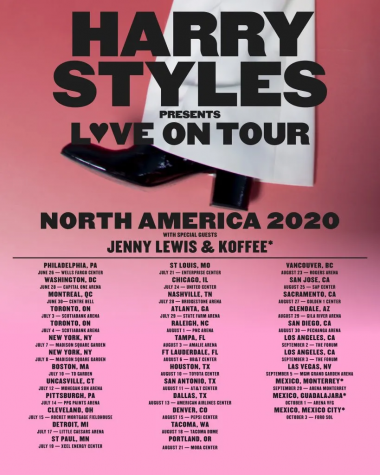 ' in Las Vegas. It has been over three years since he has performed live in concert. The tour was postponed around a year ago due to Covid-19 restrictions but Styles has come to prove he's back and better than ever. Styles is performing with whimsical and fun outfits and is enjoying his homecoming to the stage with a live audience. It's not only him who is showing up to his concerts dressed in dazzling outfits, his fans have come dressed in similar outfits, most of which contain flared pants, sequins, and cowboy hats. One fan even showed up in a watermelon costume paired with fishnets, a reference to Styles's song, 'Watermelon Sugar.' 
The outfits are inspired by many different things. Love on Tour has been filled with outfits inspired by songs and even some copying Styles outfits from magazines and previous appearances.
Styles also interacted with his fans and the crowd frequently. He read the signs held up by fans and reacted. Even when a fan during the Dallas show threw a cowboy hat on stage, Styles picked it up and tipped it down in response. In San Antonio, someone threw a bouquet of flowers at Styles during the song 'Sunflower, Vol. 6'. He caught the bouquet and slung it over his shoulder, and continued singing.
The energy created at the show by Styles and his team makes the experience very positive and fun. Style's motto to 'Treat People with Kindness' is proven at his shows, as he reminds his fans every show and with the song itself.
Altogether, it's nice to see Harry Styles return to the stage and bring along so much positive energy behind him. With feather boas and cowboy hats, his fans are happy to see his return and celebrate it.
Leave a Comment
About the Contributor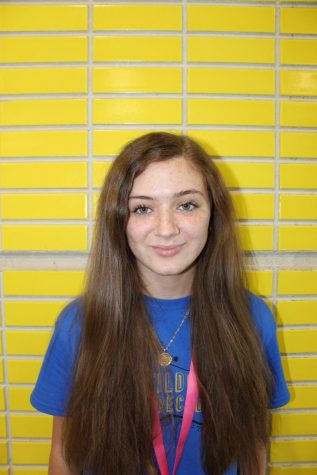 Hollis McCauley, Staff Writer
Hollis McCauley is a 10th grader at Travelers Rest. This will be her first year on the Newspaper Staff and she helps manage the Instagram account and also...