Homecoming Week
This past week was homecoming week for Travelers Rest High School. Monday's theme was 80's day, it looked as if students were walking around the Starcourt Mall. The school looked like a pack of highlighters in the best way possible. There was music trivia in the lunchroom and that was a blast. There was also a fiasco with the spirit rock and it was briefly taken away, but with the rules reinforced it was given back.
Tuesday was American Out and these students really know how to show their patriotism. There was an Avengers Training camp during all 3 lunches, which was a ton of fun for everyone. This day shows that TR does in fact  bleed Red, White, and Devildog blue. 
Wednesday was Sleeping Beauty, which is pajama day. One of the all-time favorite spirit days at TR. Donuts were sold in the morning in the commons for one dollar, and there was a Cinderella's slipper race during all 3 lunches. Hat passes were sold every day of the week for $1.
Thursday was Monsters University day, which is wearing college shirts or jerseys. There was a Ratatouille cooking class during all 3 lunches, which adds a new and interesting element to our spirit week. There was also a buyout that took place during 4th block and it was a talent show with actual winners. In 3rd place was Alexis Morgan, in 2nd place was Kashia Stewart, and in 1st place was Maggie Leadford. They all sang for their talent and blew the audience away.
The Homecoming parade took place at 6 pm on Thursday. The parade was amazing, all of the floats were put together very well. The Freshmen float was Stranger Things and Outer Banks themed, the Sophomores had a Marvel float, the Juniors had a Disney float with rapunzel and her tower, and finally, the Seniors had a Pixar-themed float. This parade was very well put together and the community who came to support Travelers Rest High School only made it better.
Friday was game day at the dog house! The theme for the students was to wear their class colors for the pep rally today. Freshmen were blue, Sophomores orange, Juniors white, and Seniors pink. The pep rally was full of chants, music, screams, and a lot of school spirit. At the game the Devildogs went against the eagles, so the point of the pep rally was to get us pumped to cage those eagles!
As the week came to an end there was a tie in the favorite day of the week. It was between jersey day and pajama day out of 30 people 15 people voted for jersey day and the other 15 voted for pajama day.
Leave a Comment
About the Writer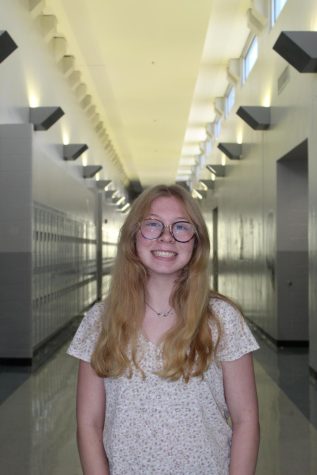 Abby Capps, Staff Writer
Abby is a junior and this is her second year on the Newspaper staff. She enjoys reading and she does Youth in Government after school every Tuesday.