Idaho University's Quadruple Homicide
Idaho University Mystery Murders
On November 13th, 2022 approximately around 3-4am,college students Ethan Chapin, Kaylee Goncalves, Xana Kernodle, and Madison Mogen were slain to death by a person who currently is still on the loose.
Backstory: 
 Xana Kernodle was a junior at the University of Idaho studying Marketing. She was a part of the Sorority PI Beta Phi. Everyone who knew Xana spoke highly of her. Her sister, Jazzmin Kernodle, spoke out at the vigil saying  "She made me such a proud big sister, and I wish I could have had more time with her. She had so much life left to live." Xana was only 20 years old.
Ethan Chapin was a Freshman majoring in recreation, sport and tourism management and a member of the Sigma Chi fraternity, the university said. Ethan was also Xana's boyfriend.  Ethan's mother spoke out in an interview stating, "Ethan lit up every room he walked into and was a kind, loyal, loving son, brother, cousin, and friend."
Ethan was only 20 years old.
Madison Mogen was a senior at the University of Idaho who was also studying Marketing. She too was a part of Pi Beta Phi. One of the surviving roommates spoke out about what she felt Mogen would say to her.  "Everything happens for a reason' — but I'm having a really hard time trying to understand the reason for this." 
Madison was only 21 years old.
Kaylee Goncalves was a senior at the University of Idaho majoring in General Studies. She was a part of the Alpha Phi Sorority. Madison and Kaylee were best friends. Kaylee's older sister spoke out on behalf of the family stating, "No one is in custody and that means no one is safe. Yes, we are all heartbroken. Yes, we are all grasping. But more strong than any of these feelings is anger. We are angry. You should be angry." Goncalves father has now hired a private investigator to help solve his daughters murder. 
Kaylee was only 21 years old.
Where was Ethan, Xana, Madison, and Kaylee the following night?
According to sources, Ethan and Xana were at a frat party. Police do believe that the two were at the party from 9pm November 12th, to 1:45am. They both were found in the same room. 
Kaylee and Madison were both at a party as well. There is no evidence that they were at the same party as Chapin and Kernodle. After the girls left the party, they went to a food truck on campus where surveillance cameras caught footage of Madison saying something to a boy that was a bystander. As the girls leave in their Uber, the man is seen pointing and following the girls along the sidewalk.  
Conspiracy theories
 As the case still remains under investigation, TikTok users have been trying to solve the case with their theories.  One theory is that the guy from the food truck named Jack S, may have played part in the murders. Apparently, he was a part of the same Fraternity as Ethan where he was later kicked out for having anger issues. They have also said that the girls rejected him which caused him to take his anger out among Mogen and Goncalves.
The next theory is, Jack S knew of the girls. You can see him in the surveillance footage wearing a brown jacket with his hood up staring at the girls from a far. As the girls are seen ordering their food, Madison turns to Jack using vulgar language then proceeds to record him after their food is ready. The two girls are then seen later running away into the uber. Jack S is then seen pointing in their direction then he proceeds to follow them.
Another theory is the mystery killer could have been jealous of Madison and Kaylee because they were well rounded people. They believe that the killings started with the two girls who were on the third level. A Tik Tok user believes that the killer was trying to leave but may have seen Ethan going to the bathroom and became frantic slaying Ethan in the doorway hence the blood on the door. It is also believed that Xana may have seen it happening and the killer went after her too.
The last theory goes back to Jack S. He is viewed as an eerie person to everyone who is talking about the quadruple homicides. Jack S, who was seen at the food truck, apparently left that night to go to his parents cabin which was 5 hours away. He was also seen on a Geo Snap wearing a ski mask that had a drop of blood on it before he left the country and is now in Kenya after police let him off.
What is happening now?
As the case is still ongoing, more information is coming out day by day. Police believe they found Madison's jacket just outside from the girl's place. It is believed that the killer is making hints. On Tuesday December 6th, news sources released that a getaway car was parked right outside of the apartments. That car is seen to be a 2011-2013 white, Hyundai Elantra. Further information will be released daily.
Leave a Comment
About the Contributor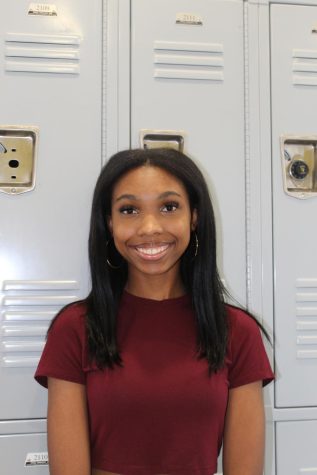 Jenae Aiken, Staff Writer
Jenae Aiken is a senior at TRHS and this is her second year on the Blue and Gold staff. Jenae is in the TRHS Beta Club and enjoys playing soccer. Jenae's...