October Major League Baseball Recap
The MLB postseason experienced an early start this year with some dramatic situations. It's difficult to imagine that the 162-game regular season schedule wouldn't be enough to decide the postseason this year, but that was the case. In fact, both the National League Central and National League West winners were forced to be decided by the famous 163rd game. This is the first time in history that two divisions in the same year had to be decided by a tie-breaking game. That "win or go home" mentality would be carried on throughout the rest of the postseason and this article breaks down each series, telling you everything you need to know about this year's edition of October Baseball.
163rd Game
Colorado Rockies vs. Los Angeles Dodgers
Winner: Dodgers
The LA Dodgers fought off a late rally from Colorado in the 9th to win 5-2. The Atlanta Braves awaited the winner of this game. With the win the Dodgers became the second seed in the National League Playoffs. After the tiebreaker Los Angeles was awarded their 6th straight NL West championship.
Milwaukee Brewers vs. Chicago Cubs
Winner: Brewers
Milwaukee won their 8th game in a row to win the NL Central and force Chicago to play the following night in the NL Wild Card game. Only one month before the tie-breaking game the Cubs had a 5-game lead over the Brewers, but they got hot at the right time to become division champs for just the third time in the franchise's 50 years.
NL Wild Card
Colorado Rockies vs. Chicago Cubs
Winner: Rockies
Colorado began "Rock"-tober in dramatic fashion after knocking out Chicago in a low-scoring extra inning victory. The Rockies won 2-1 in 13 innings and secured a date with the hottest team in baseball at the time: Milwaukee. It was a hard earned victory over the Cubbies in their home park of Wrigley Field on a cool October night. Tony Wolters, catcher for Colorado, had only a .170 batting average at the end of the 2018 regular season, but he came through late and kept Colorado's dream alive.
AL Wild Card
Oakland Athletics vs. New York Yankees
Winner: Yankees
You wouldn't think any team who has a regular season record of 100-62 would place second in their division and have to play for the Wild Card, but such was the case for the Yankees this year. They defeated the red hot A's in Yankee Stadium 7-2 to move on and face their division rival Boston. As was expected, the long ball played a factor in the Yankees' victory plating three of their seven runs including a 2-run shot in the very first inning off the bat of Aaron Judge.
NLDS
Atlanta Braves vs. Los Angeles Dodgers
Winner: Dodgers win series 3-1
LA made the best of home field advantage and shut out the Bravos in the first two games at Dodger Stadium. Atlanta fought off elimination in game three at Suntrust Park but were not able to hold off the powerful Dodgers in Game 4. The key for this series was home runs for LA which scored the majority of their total runs. However, Braves outfielder Ronald Acuña Jr. became the youngest player ever to hit a grand slam in a postseason game at 20 years old. Los Angeles won the Division Series and moved on to play in their third straight NLCS.
Colorado Rockies vs. Milwaukee Brewers
Winner: Brewers win series 3-0
The Brewers won three more games in a row to sweep the Rockies and push their winning streak to 11 games. Milwaukee outscored Colorado in this series 13-2 over the span of three games. The only two runs that Colorado scored were in the 9th inning of game 1. This statistic shows the high level of pitching from Milwaukee that teams had to contend with.
ALDS
Cleveland Indians vs. Houston Astros
Winner: Astros win series 3-0
The defending World Series champs showed no sign of slowing down against a Cleveland Indians team that won their division by a margin of 13 games. The Tribe gave up a whopping 21 runs to Houston in the series. The final score of Game 3 was 11-3 after the Astros hit three home runs at Progressive Field. Astros' outfielder George Springer had two homers and became the franchise leader for postseason home runs.
New York Yankees vs. Boston Red Sox
Winner: Red Sox win series 3-1
One of the greatest rivalries in baseball promised an exciting ALDS that has quite a history. This year the Red Sox were unfazed by New York even after the Yanks stole a game in Fenway. In Game 3 it was all Boston topping their rivals 16-1 in Yankee Stadium and finishing them off the next day. The Yankees' fans got what they wanted after chanting "We want Boston!" in the AL Wild Card game but it turned out they got more than they bargained for.
NLCS
Los Angeles Dodgers vs. Milwaukee Brewers
Winner: Dodgers win series 4-3
LA punched their ticket to the World Series for the second year in a row. It was not an easy battle though against the Brewers who came into this series having won 11 games straight and even took the first game of the Championship Series to make it 12 in a row. These games were not without controversy however involving Dodgers' infielder Manny Machado on two separate plays. One play Machado appeared to drag his foot and kick the Brewers' first baseman Jesús Aguilar in the ankle which would result in the benches clearing. The other play involved a hard slide into second base that Machado has done before against the Red Sox. As fate would have it the Dodgers and Red Sox would meet in the Fall Classic after recent unsportsmanlike events.
ALCS
Houston Astros vs. Boston Red Sox
Winner: Red Sox win series 4-1
The defending champs made a run at an appearance in the World Series for the second straight year but ran into a brick wall, or rather a "big green monster". Boston outfielder Jackie Bradley Jr. was named ALCS MVP by driving in 9 runs over the course of the series. Another key player for Boston was starting pitcher David Price who pitched in Game 5 on only three days of rest and recorded his first postseason win in 12 career starts. Boston made it to the World Series this year for the first time since 2013 and would face an LA team that had the third best record in the National League and played in a tie-breaker game before playoffs even started.
World Series
Los Angeles Dodgers vs. Boston Red Sox
Winner: Red Sox win series 4-1
Boston won a total of 119 games in 2018 including 4 against the Dodgers to claim their 4th World Series since 2004. The Red Sox only lost 3 games throughout the postseason, one in each series, and after each series loss they did not lose again to that team. It is also important to point out that Boston accomplished all this with a first year manager. Both teams gave everything they had especially after Game 3 that lasted 18 innings (7 hours 20 minutes) which is longer than the total time played (7 hours 5 minutes) of the entire 1939 World Series between the Yankees and Reds. The 2018 MLB regular season as well as the postseason was one to remember, full of incredible moments and great baseball that will be missed. Until next year Baseball, can't wait to see you again.
About the Contributor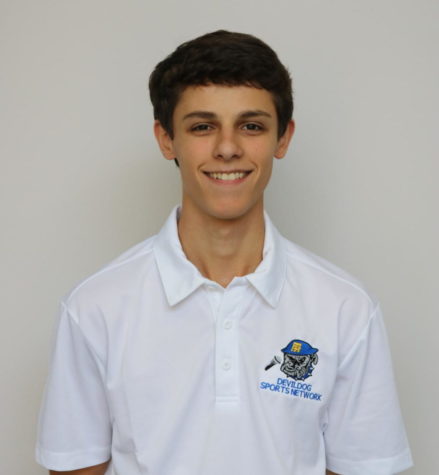 Mel Norton, Staff Writer
Mel is a senior at TRHS and this will be his second year on the newspaper staff. He is a Devildog Sports Network Manager and is on student council as well....