Reach Records Gets in the Christmas Spirit with "The Gift"
The 116 Clique brings another smash hit just in time for the holiday season.
Reach Records, the most popular Christian rap label, is back for another collective album featuring some of the biggest names in Christian Hip-Hop, including Lecrae, GAWVI, Trip Lee, newcomer nobigdyl, and many others. The new project, entitled The Gift, is a collection of hymn-inspired songs with drum beats added in the background. The interesting thing about this album is that the artists decided to not make any songs based on popular secular Christmas songs, so you won't find Lecrae rapping about decking the halls or Derek Minor singing "Silver Bells".
The album opens with Tedashii, nobigdyl, and CASS on a song simply titled "O' Come". A retooling of the popular hymn "O Come all Ye Faithful", the track opens with the hymn's chorus before dropping into a boom-bap beat as Tedashii talks about how Jesus changed his life. It's a hard-hitting beat, but the lyrics make "O' Come" a cheery song with a great message. Another great song early on the track-list is "Joy", the 116's take on the "Joy to the World". "Joy" is one of only two songs on the album to feature Lecrae, no doubt the label's most prominent artist. Other than his lyrics, the best part of the song is definitely the piano in the background, which rounds out the lyrics and the drum track. Other great songs on the album include "Angels" by GAWVI, and my personal favorite, "We Three Kings" by Lecrae, Paul Russell, and Abe Parker.
Reach Records has always striven to make high-quality music that shares the love of Christ, and The Gift is one of their most well-rounded efforts. Their nickname, "116" or "The 116 Clique" comes from Romans 1:16, which reads, "For I am not ashamed of the gospel, because it is God's power for salvation to everyone who believes, first to the Jew and also to the Greek." (HCSB) While others may not share their faith, all can see that these artists are confident in their identity and receive their strength and talent as a blessing. In a time where our culture has commercialized Christmas to the point where people are trampling each other for TVs in November, The Gift is a refreshing album that highlights the things that truly make Christmas great.
Leave a Comment
About the Contributor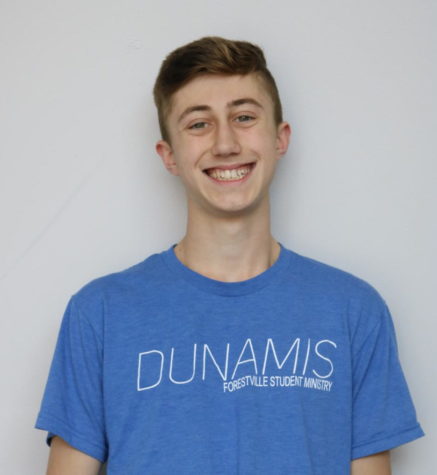 Josh Kemp, Opinions Editor
Josh Kemp is a senior at Travelers Rest High and has been struggling with early-onset senioritis for years. His many hobbies include wearing Sperrys without...