Steven Rinella is on the Hunt Again with New "Meat Eater"
Steven Rinella shows viewers exotic locations and displays how to hunt, clean, and prepare various animals.
Netflix is venturing into a new area with their original programming, as Meat Eater and other outdoorsy shows are being introduced. Premiering several weeks ago, the seventh season of Meat Eater is the third to be produced by Netflix. Steven Rinella, an author/conservationalist, hosts the show and goes on fascinating hunts for peculiar animals.
Make no mistake, Meat Eater is not a reality show like Duck Dynasty, but it does provide a true look at the reality of hunting. This means that some episodes end with Rinella bagging multiple animals, while in others he walks away empty-handed. Every episode, Steven begins by explaining his location and introducing his friends that are coming along on the hunt. While some celebrities come on the show, such as podcaster and UFC announcer Joe Rogan, Steven mostly just brings along his personal friends. This gives the show even more authenticity, as even though it is always unscripted, the personal relationships are visible on the show and add a layer of realness. The format is very simple, as one or two cameramen follow Rinella and his companions during their treks that can span days or weeks.
If Rinella and his friends can actually bag an animal, each 22-minute episode culminates in skinning and cleaning the animal. After the meat is prepared, Steven makes a gourmet meal using only the meat he collected and very few ingredients. It definitely gives the show a full-circle feel, as the hunters reflect on the animal and their surroundings as they feast.
Meat Eater is a look at hunting in its most beautiful and natural state. Rinella uses almost every part of the animal, and kills not just for sport, but to feed his own family with the meat from the show's hunts. Being a conservationist, Rinella is very environmentally aware and admires the beauty of the animals that he is hunting. For all these reasons, Meat Eater is a smash hit on Netflix, and viewers will desire to see Rinella back in action soon.
About the Contributor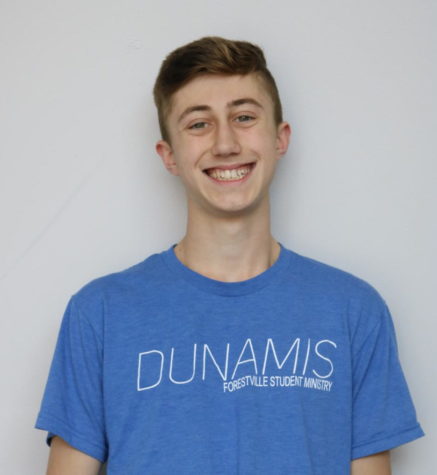 Josh Kemp, Opinions Editor
Josh Kemp is a senior at Travelers Rest High and has been struggling with early-onset senioritis for years. His many hobbies include wearing Sperrys without...