Travelers Rest at PDA 2023
On Saturday, February 25, the TRHS Theatre program took a select number of students to the Palmetto Dramatic Association (PDA). This festival consists of group one-acts and individual events. All students who attended participated in the group acting and a few of those students did an individual event (IE). PDA and SC Thespians come together to host one festival over the span of three days to encourage the quality of theatre development in highschools around the state. 
The following TR students participated in the festival:
Olivia Ableman
Lucas Bowers
Layla Jones
Jules King (TR Thespians VP)
Kate Leckie (TR Thespians President)
James Marsh
Damien Rogers
Kashia Stewart
Aiden Tribble
Zach Wilson
The following students participated in IEs: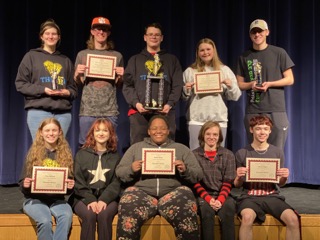 Kate Leckie – Solo Musical Superior
Kashia Stewart – Solo Musical Excellent
Lucas Bowers – Solo Musical Excellent
Lucas Bowers/Kate Leckie – Duet Musical Excellent
Jules King/Damien Rogers – Duet Acting Excellent
The entire group of 10 students performed the show The Least Offensive Play in the Whole Darn World, a play where the "offensive material" is cleaned out of popular plays including Romeo and Juliet, Rent!, and the Greek tragedy, Medea. While performing, the group was judged on believability, voice, movement, ensemble acting, transitions, blocking, stage business, tempo, costumes, make-up, set, and execution of performance. Considering the categories of judgment, all three judges gave the group a superior, which is the highest score achievable. The group received Outstanding Achievement in Student Interaction and Outstanding Achievement in Concept and Heightened Comedy. Along with receiving an ensemble score and awards, certain individuals were also given acting awards:
Kate Leckie – Superior in Acting 
Zach Wilson – Superior in Acting
Olivia Ableman – Honorable Mention
Kashia Stewart – Honorable Mention
Damien Rogers – Honorable Mention
Leave a Comment
About the Contributor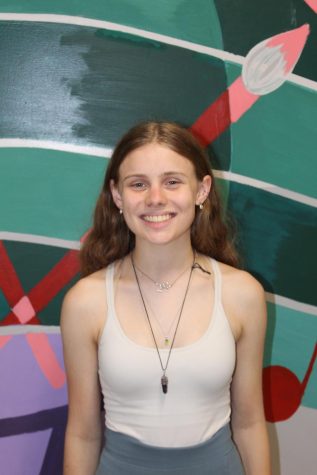 Olivia Ableman, Editor and Photographer


Olivia is currently a senior at Travelers Rest High School and this is her third year on the Blue and Gold Staff and her second as a Blue and Gold...