Varsity Football vs Blue Ridge
The Devildogs took on the Blue Ridge Tigers for the annual "Jug Game" for the Foothills Feud, this Thursday, October 24th. Blue Ridge kicked off the game when they scored a touchdown with 8:49 remaining in 1st quarter. Travelers Rest fought back and senior running back, Zeirean Riley, was able to run in for a touchdown. The Devildogs decided to go for a 2 point conversion which was successful and brought the score to 8-7. Throughout the second quarter both teams were able to keep each other from scoring until the Tigers pushed through the defense to score their second touchdown of the night, which left the Devildogs down by 6 at halftime.
To open up the second half of the game the Devildogs offense were able to get the ball downfield and junior running back, Cameron Henderson, ran in and brought the score to 14-14 with 8:42 remaining in the 3rd quarter. Shortly after, the Tigers responded and scored a touchdown. With the Devildogs trailing by a touchdown, senior quarterback, Wilson Hendricks, ran the ball to score another touchdown. The point after was unsuccessful, causing Travelers Rest to enter the final quarter down by 1.
To kickoff the 4th quarter, senior running back, Zeirean Riley, scored his second touchdown of the night. Senior, Gary Holmes, caught a pass for a 2 point conversion bringing the score to 28-21. Blue Ridge pushed the defense and scored again with 7:01 left in the game. The Devildogs continued to fight and with 3:10 left in the quarter senior wide receiver, Derrick Fields, caught a pass. Senior quarterback, Wilson Hendricks, expanded his role on the team and kicked an extra point for the Devildogs. For the remainder of the game the Devildog defense was able to stop the Tigers, and securing possession of "the jug" with a final score of 35-28.
Leave a Comment
About the Writer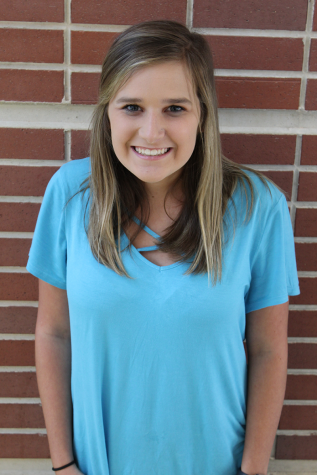 Rylie Buchanan, Photography and Sports Editor
Rylie Buchanan is a current senior that not only participates in the newspaper but also the girl's tennis team. This will be her second year on the Blue...