Miracle Hill vs. Goodwill
Thrift shopping has become increasingly trendy over the last few years. Many people go there to discover unique clothing items or artifacts while others go there to simply shop for clothing. When it comes to thrift stores in the Travelers Rest area, there are two that come to mind for most people: Miracle Hill and Goodwill.
These two thrift stores are within close proximity of each other, essentially just across the highway and within a walking distance of about 5 minutes. The battle between the thrift stores has been the talk of the town for a while with people wondering "Which one is better." Both stores sell recycled items or items donated to them so the quality is about the same for each store. Both stores also donate a percentage of their income to charity so the ethical aspect of both stores is about the same as well. This means that deciding which store is better comes down solely to opinion and personal choice. This is why interviews were conducted to determine the outcome.
In an interview with Connor Johnston, he states, "I love to pass through the Miracle Hill doors on a Tuesday evening. It's a good way to end my day in high spirits." Although he did not want to pick sides, it is evident that Connor Johnston prefers Miracle Hill as he has never stepped foot in a Goodwill store on a cool Tuesday evening. In another spontaneous interview, Chandler Dewing stated, "I think there is no better store. Anyone that donates to charity has a special place in my heart." Chandler was much more unbiased in his interview so it is difficult to distinguish which store he truly does prefer. In a third interview with former TRHS alumni, Griffin Gillespie, he stated, "I get all of my clothing online. Why waste time driving to a thrift store when I could be using that time to rep some miles in for my weekly mileage?" Griffin Gillespie evidently does not shop at thrift stores which means Miracle Hill is still in the lead with 2 votes while Goodwill only has 1. In a final interview with Gabe Herron, Gabe states, "There's some straight gas at Miracle Hill. I get all of my pump covers from there. With the Mcdonalds and Pizza inn just around the corner, I'm bound to find some 2XL t-shirts that can hide my gym gains."
With that concluding interview, it is evident that Miracle Hill is the winner of the thrift store battle. Miracle Hill came out victorious as Goodwill did not stand a chance against Miracle Hill and its supporters.
Leave a Comment
About the Contributor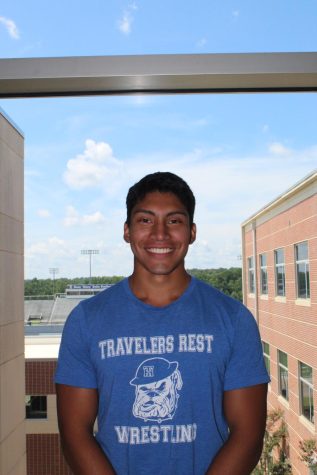 Cristhian Campos, Staff Writer
Cristhian is a senior at TRHS, this is his second year on the Blue and Gold Staff as a writer. Cristhian is a part of the cross country and track. Cristhian...