Queen's Revival?
Hang on for a minute...we're trying to find some more stories you might like.
There are many mixed reviews on the new biopic about the band Queen: Bohemian Rhapsody. For generations alive during the prime of Queen, this was a nostalgic throwback with new insights on the history of the band. For those of us not alive then, this gave historical insight on the music industry in the 70s and 80s. However, can we trust this biopic completely? It's important to know what's true and not before accidentally proclaiming false information.
Throughout the movie I noticed the band members continuously seemed without fault. It all made sense when I researched that Brian May (lead guitarist) and Roger Taylor (drummer) were heavily involved. That's great they could tell the story because they're the main characters, but Mercury had no say in the movie, as he died tragically from complications due to AIDS in 1991. Something else that made the story more "movie-like," and also false, was the fact that Mercury broke up the band because of his pursuit for a solo career. In reality, though, Brian and Taylor each released their own solo albums before Mercury (which was never mentioned in the biopic), and the band simply took a break. They had been doing the same routine of making music, tour, making music, and so forth. In a 1984 interview in Munich, Mercury states, "I think most people thought that I would be the first one to have a solo album, and the band, Queen, would break up." Interesting enough, that's the plot for the movie.
Besides the false information, actor Rami Malek, playing Freddie Mercury, did a phenomenal job. His iconic catchphrases were on point and the fake teeth brought Mercury to life. Ben Hardy (Roger Taylor), Joseph Mazzello (John Deacon), and Gwilym Lee (Brian May) also portrayed these famous band members well. The movie showed the beginnings of Queen's formation (with poetic license used) and the struggles they endured while trying to "break the formula" of a rock and roll band. Mercury and Mary Austin's relationship grabs at the audience's heart with their love and friendship. However, Austin had no involvement with the production of the movie, so most of her role was interpreted by actress Lucy Boynton.
The fashion was bold and screamed 70s. Bohemian Rhapsody portrayed the struggles celebrities endured with paparazzi during that time. The last 25 minutes of the movie reenacted Queen's Live Aid performance, arguably one of the best live performances in history. Although it was a comeback for Queen (in reality, too) and a perfect ending to the movie, there was some misrepresentation because he wasn't diagnosed with AIDS until two years after Live Aid.
Members of Queen each contributed in writing songs; what set them apart was the fact they didn't care if their music made the radio or not. They probably weren't anticipating the popularity of "Bohemian Rhapsody," written by Mercury. The song is six minutes and arguably revolutionized rock and roll. It's very fitting the title of the movie is their hit song.
Overall, if you're looking for a fun night out full of Queen's popular songs and nostalgia, then watch Bohemian Rhapsody– just don't believe everything you see.
About the Writer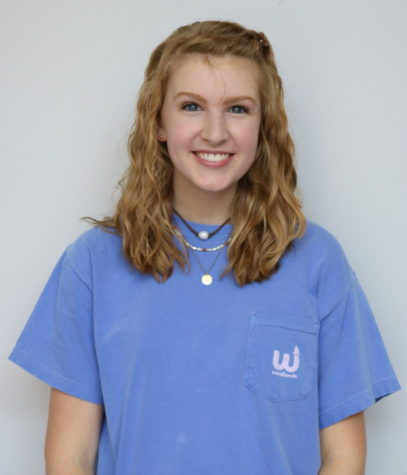 Addie Townsend, Co-Editor-In-Chief
This is Addie's third year on newspaper and she couldn't be more excited. She is the Co-Editor-In-Chief and loves her staff family! She enjoys playing...