It's Warmer on Mars
Hang on for a minute...we're trying to find some more stories you might like.
The new year is welcoming the East Coast with one of the most extreme blizzards of all time. The storm has brought thousands of cancelled flights, major power outages, and over twenty deaths.
Winter Storm Grayson has proven to be one of the most intense western, Atlantic winter storms in decades, hitting the East Coast with blizzard conditions and major coastal flooding. People are feeling the effects of the storm, with temperatures below -40 degrees Fahrenheit in some areas. Grayson has dumped over two feet of snow in Maine, with winds reaching up to 60 mph.
However, snow isn't the only concern. The major storm is causing coastal flooding to pour into cities, leading to dangerous ice. With flood levels over four feet, people have reported floating vehicles around the area of Chatham, Pennsylvania. The flooding is causing power lines to snap, leaving thousands of people without electricity. Hospitals in many areas have set up warming shelters for people who have no power, along with the homeless.
Southern states who normally do not get hit with harsh weather are being affected by the storm. The frigid temperatures mixed with rain caused slippery roads in parts of the upstate on Monday and Tuesday. Greenville county schools were forced to close on Monday due to possible ice concerns on the roads.
After the holidays, travel is also a major concern. Over 6,000 flights have been cancelled and multiple emergency landings have been made. Singapore Airline Airbus A380, the world's largest passenger airplane, was forced to land at a small airport in New York after extreme whitewash conditions. The 325 passengers aboard were forced to walk from the landing strip to the terminal, due to the size of the airplane.
It is still unsure when the storm will let up, as Grayson continues to dump feet of snow on northern states. The wind chill continues to blow temperatures below freezing, and ice is still covering roads, trees, and power lines. In weather that cold, salt on the roads has no purpose, and people are being advised to stay off the roads because of visibility issues as long as dangerous conditions continue.

About the Writer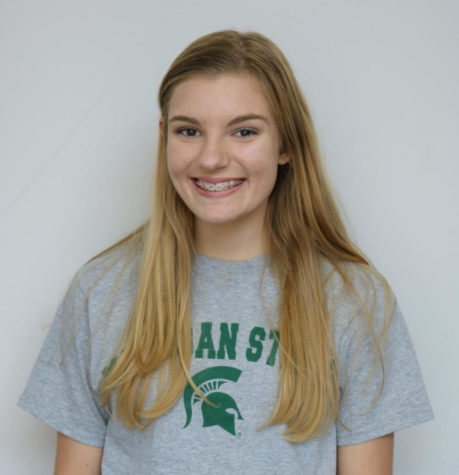 Sophie Nauta, Co Editor-in-Chief
Sophie is senior and second year writer for the Blue and Gold. This year, she finishes her fourth year of cross country as a co-captain. When Sophie isn't...