Remembering Christine McVie
Christine McVie, who served as a singer, songwriter, and keyboardist for the widely popular band Fleetwood Mac, has died. McVie passed away on November 30, 2022, at the age of 79, her cause of death is currently unknown, however in the months before her passing, she had announced she was struggling with her health. 
McVie was born Christine Perfect on July 12, 1948, and she grew up exposed to music, as her father was a music teacher. She became a classically trained musician and even played in small bands before joining Fleetwood Mac in 1970. It was in the band Fleetwood Mac that Christine would meet and fall in love with her future husband, bassist John McVie. Fleetwood Mac skyrocketed to success in 1975 with the addition of members Stevie Nicks and Lindsey Buckingham, and Christine and Stevie became quick friends.
Many of Fleetwood Mac's successes can be attributed to McVie, as she either wrote or co-wrote eight of the sixteen songs included on the band's 1988 Greatest Hits album. Seven songs written by McVie managed to peak above number twenty on the Billboard Hot 100 chart, including "Everywhere," "Say You Love Me," "Don't Stop," and "Little Lies." 
The band members very famously had a tumultuous relationship with one another, as Stevie Nicks and Lindsey Buckingham were dealing with a breakup at the same time that Christine and John McVie were going through a divorce. This relationship was made public in the widely successful album Rumours, released in 1977. In the years following the release of Rumours, many of the members decided to solo, Christine included. However, the band eventually came back together and even embarked on a successful comeback tour in 1997, and the following year they were inducted into the Rock and Roll Hall of Fame. 
Following McVie's death, the band published a joint statement regarding her passing; "There are no words to describe our sadness at the passing of Christine McVie. She was truly one-of-a-kind, special and talented beyond measure. She was the best musician anyone could have in their band and the best friend anyone could have in their life. We were so lucky to have a life with her. Individually and together, we cherished Christine deeply and are thankful for the amazing memories we have. She will be so very missed."
Leave a Comment
About the Contributor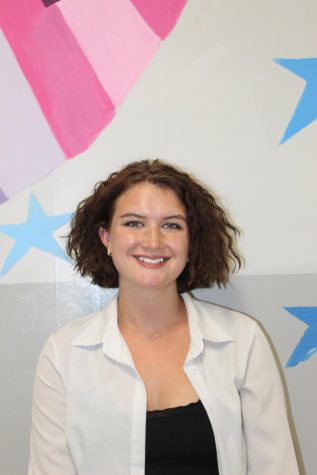 Loren Short, Editor
Loren is a senior at Travelers Rest High School and this is her third year on the newspaper staff and her second year as an editor. Loren currently plays...