What is Foreseen for Halloween
Halloween season is coming up and is currently the second talk of the town behind hurricane Ian. Many stores have begun setting up their isles with Halloween candy, inflatables, and even costumes. The greatest enigma these days is "What should I dress up as for Halloween?" Unsurprisingly, this article has all the answers for the top 3 Halloween costume choices for the year 2022.
The third most popular Halloween costume for 2022 is a pirate. "I think pirates are really cool. I've always wanted to be a pirate since I was little and now I finally have the money to afford a costume!" stated pirate connoisseur, Lauren Baker. Pirate costumes have been a classic for decades and it seems to remain this way with the amount of popularity that they have this year. Many others have also decided to participate as pirates this Halloween in an attempt to release their pent-up mischievous natures. It seems that pirate costumes are a tradition that is here to stay this Halloween season.
The second most popular Halloween costume for the year 2022 is Kobe Bryant. Due to his simplistic and humble nature, many are deciding to dress up as him. Although this is partially due to the cost-effectiveness of the costume, the main reason people have chosen Kobe as their Halloween costume is much different though. "I love Kobe's aesthetic, I love his style, his look, his mentality, I just love everything about him," stated Benjamin Petty. It is obvious that people are dressing up as Kobe Bryant not because they think he is fun or cool, but because he is an inspiration for our generation and many generations to come. Kobe Bryant's mamba mentality is one of the most significant appeals for Halloween participants this year.
Coming in at the number one pick for Halloween costumes is none other than the queen of England. Due to recent events, many are trying to honor the queen's legacy while others are dressing up as her as a sort of coping mechanism to get through the grief. Queen Elizabeth fanatic, Timothy Monroe, states "I love the queen. I'm definitely dressing up as her for Halloween. Long live the queen!" Many others are following in pursuit of Timothy's footsteps and have decided to dress up as the queen as well. Payton White is another one of Queen Elizabeth's devotees and has decided to honor her this Halloween as well.
Given the interesting variety of costume picks, it seems like it will be a fruitful Halloween season, of course, people can also expect to see some of the classic Halloween costumes, along with unique new ideas.
Leave a Comment
About the Contributor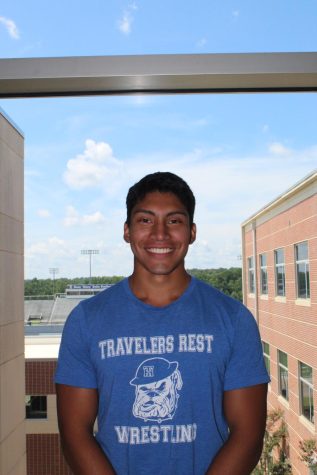 Cristhian Campos, Staff Writer
Cristhian is a senior at TRHS, this is his second year on the Blue and Gold Staff as a writer. Cristhian is a part of the cross country and track. Cristhian...